In the News 2018
December 2018
Tennis Industry Magazine names The Club at Ibis the 2018 Private Facility of the Year!
We are excited to share that Ibis's Tennis program has been recognized by Tennis Industry Magazine as a "Champion of Tennis," and named the 2018 Private/Commercial Facility of the Year! The Tennis Industry Magazine has been covering the tennis industry for 47 years and is well known and respected in the tennis community. Congratulations to the Ibis Membership and the fantastic team that runs this award-winning amenity!
http://www.tennisindustrymag.com

---

November 2018
The Club at Ibis was featured in the Palm Beach Post this weekend for being recognized as a Platinum Club of America.
Click here, see page 181.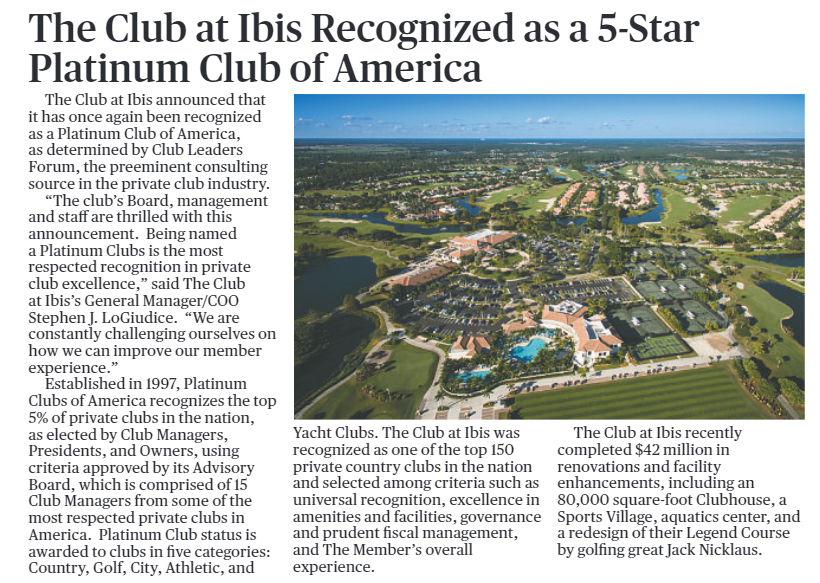 ---

November 2018
Very proud to see Ibis's Jay Berger in Tennis magazine's 50 YEARS/50 HEROES issue, in newsstands this month. Click here to read the article.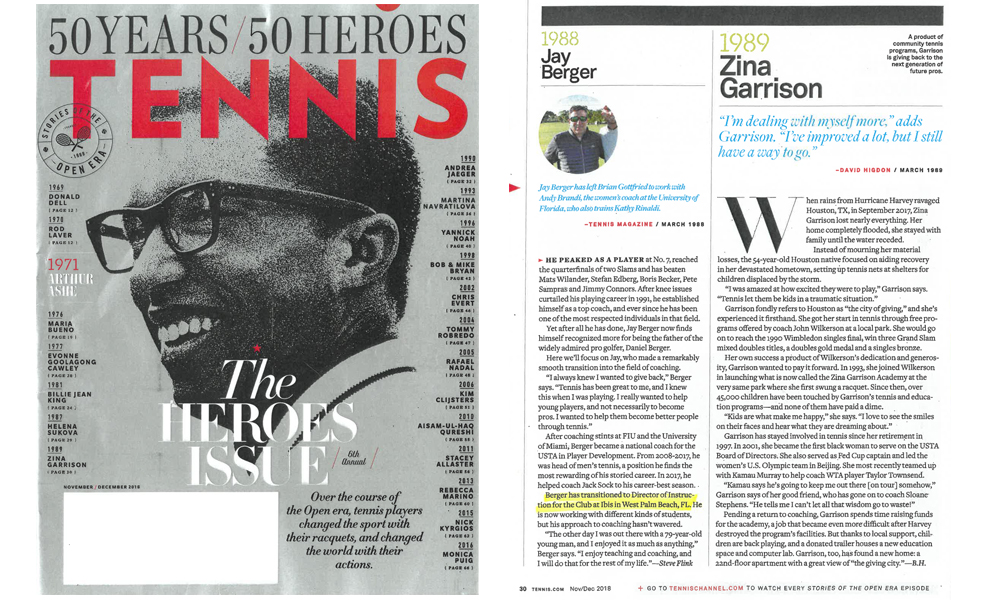 ---
November 2018
Ibis was featured in the new issue of Golf Central! Click here, see page 56-57.
---
November 2018
This branded-promo video for David Feherty's show on the Golf Channel will be running locally in November and December. With Ibis as the sponsor, it will air locally on networks like ESPN, CNN, Fox News, HGTV, etc.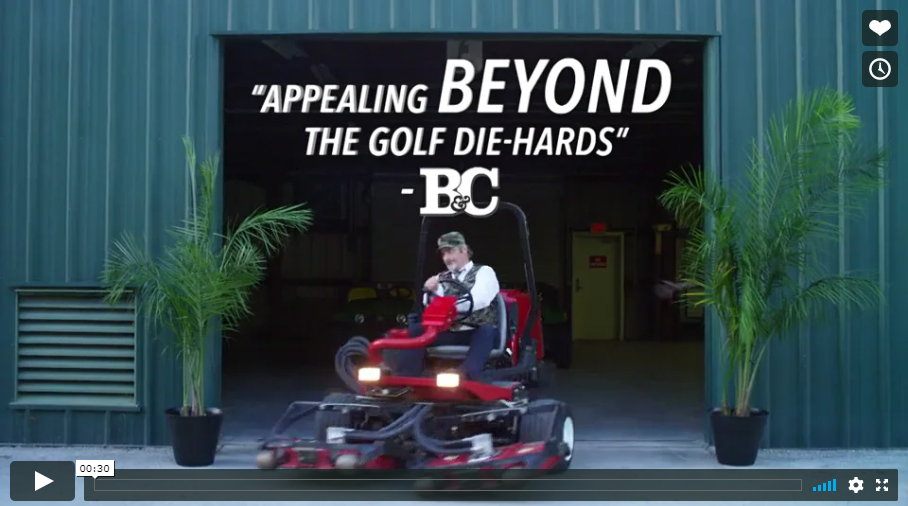 ---
October 2018
CBS12 was on hand this past weekend to cover the USTA National Father Daughter Clay Court Championships. Included was an interview with Ibis's Director of Sports, Chuck Gill.
Click here to read the article and watch the video.

---
October 2018
With so many exciting things happening at Ibis, and Members who participate and enjoy their time at Ibis, it's easy to share interesting and fun content on social media. The Club Management Magazine recently shared an article about how clubs tell their stories, including a highlight on Ibis:
Click here to read more.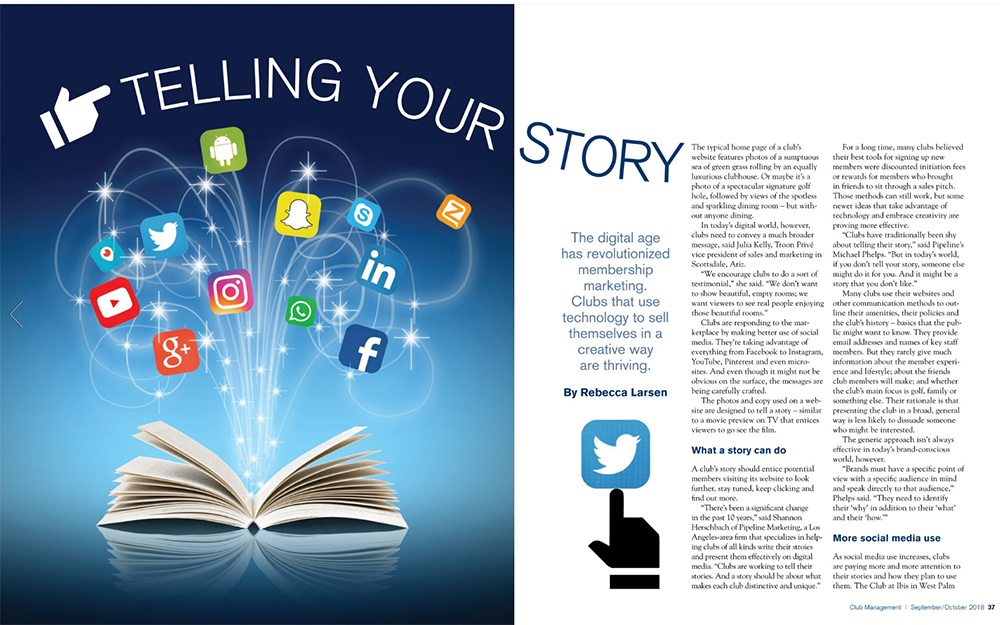 ---

September 2018
The Golfin' Guy reviews The Club at Ibis:
"To say The Club at Ibis is a residential golf community is a gross understatement; it's a community that relishes in a lifestyle that has it all. Behind the secure gates of this West Palm Beach community are 33 neighborhoods with over 1850 homes. Ibis is a mandatory membership community which boasts some of the finest conditioned golf courses, and recreational facilities in South Florida. Members must purchase at minimum a social Membership level, but when a golf Membership grants you access to three championship Nicklaus family-designed courses by Jack himself as well as sons Jack Jr. and Steve, why would you consider anything less?"
Click here to read the full article.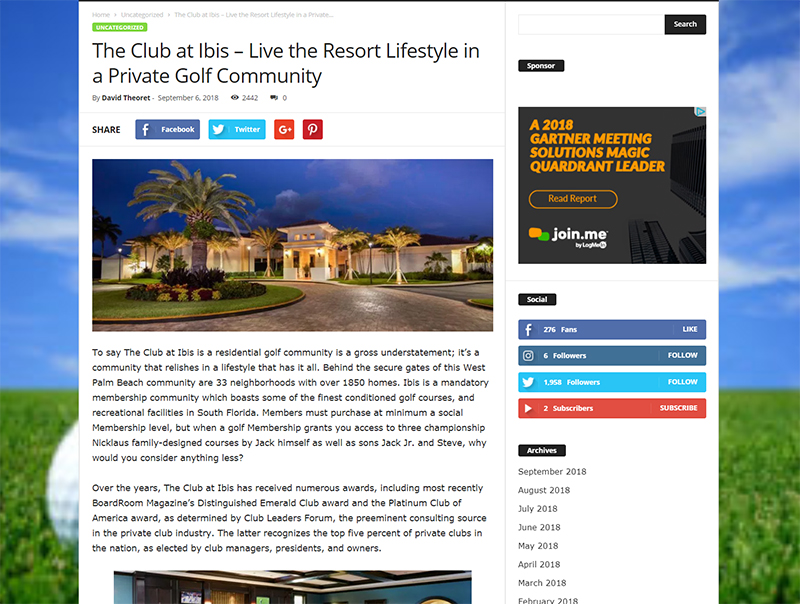 ---
September 2018
Ibis Charities is Named Outstanding Philanthropic Foundation
The Palm Beach County Chapter of the Association of Professional Fundraisers, one of 300 chapters worldwide, has selected Ibis Charities to receive the award of Outstanding Philanthropic Foundation of the year.

Each year, the chapter selects an individual philanthropist, a corporation, a foundation and a fundraising professional to be recognized for outstanding achievement.

Ibis Charities, the official foundation of The Club at Ibis, was chosen because it has made a significant impact on the community by supporting non-profit organizations in Palm Beach County. The Foundation carefully selects and vets those organizations that provide family and social services, health and wellness programs, educational programs, art and cultural opportunities and environmental concerns.

With an all volunteer group of supporters, the Foundation has donated over $875,000 to local charities over the past three years.

Sharon Bross, President of Ibis Charities will accept the award on behalf of the Board of Directors and the Members of The Club at Ibis at the awards ceremony next month.

"Ibis Charities Foundation is honored" Bross said "to be recognized for its efforts to give back to those in the community who need a helping hand. We would not be able to do this without the support of The Club at Ibis and the Major Sponsors who give generously to the Foundation and the hundreds of Members who attend and participate in our series of fundraisers throughout the year".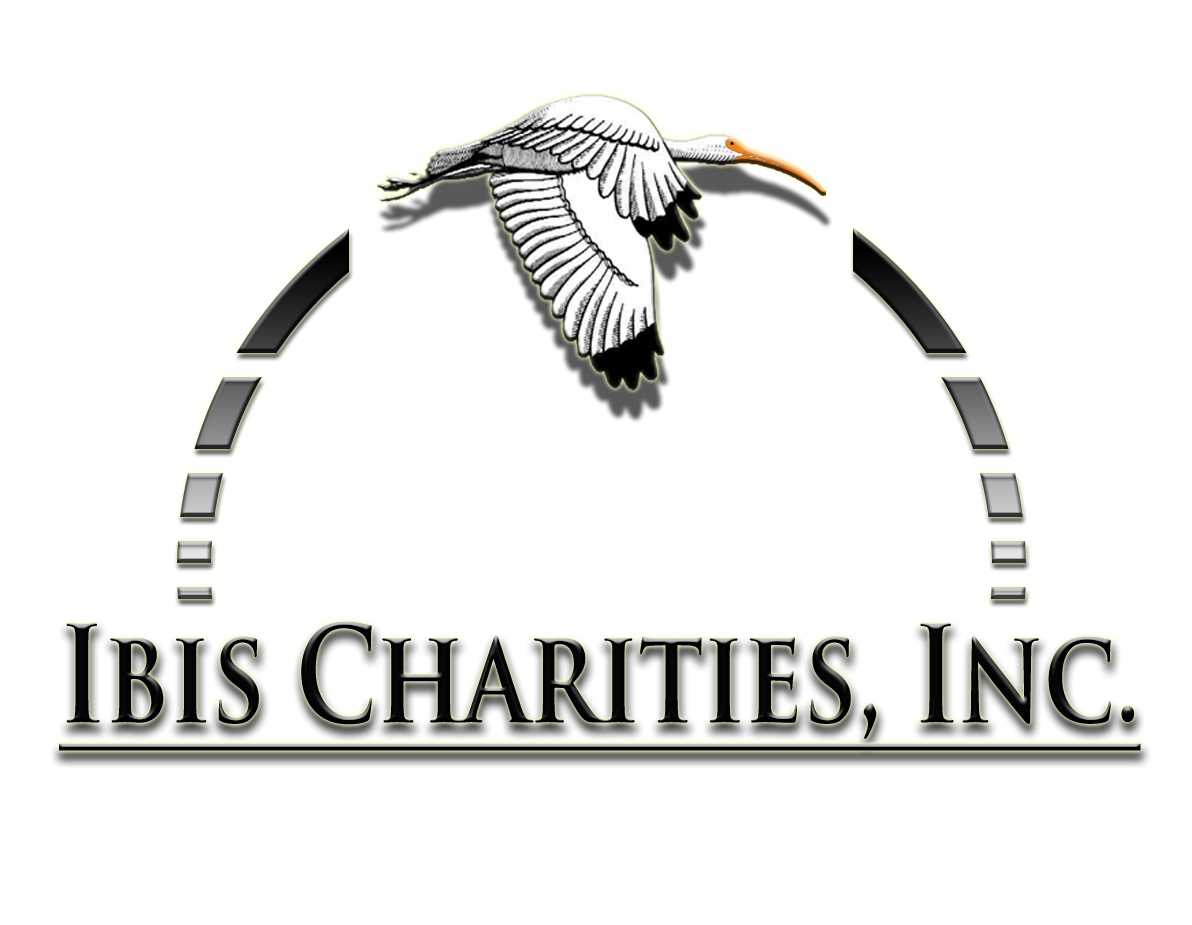 ---
August 2018
Ibis's GM/COO Stephen J. LoGiudice is in the September issue of Jupiter Magazine, The Palm Beacher, and Boca Life. This special issue features Palm Beach County's 2018 business leaders.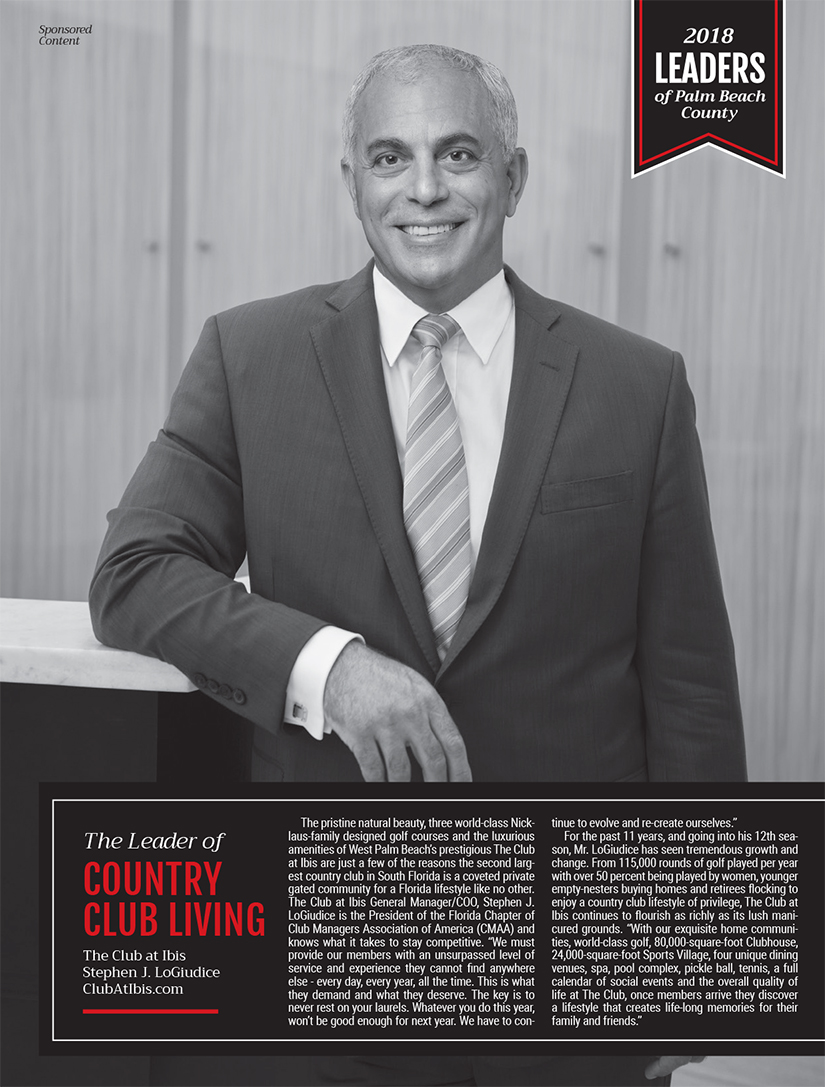 ---
June 2018
It was another generous winter season for the Ibis Charities Foundation. The Foundation awarded $275,000 to 39 charities and their success was shared in the June issue of Southern Exposure.
Thank you to all who contributed!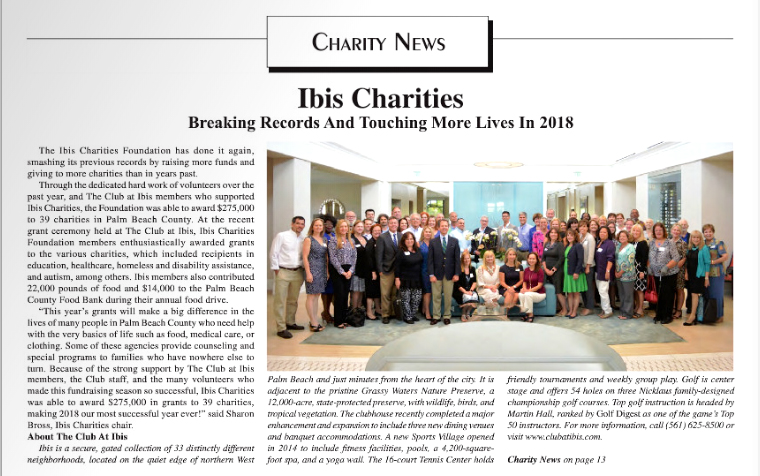 ---
May 2018
The May/June issue of Golf Inc. ran a story on the 'Hottest fitness trends' and featured Ibis's yoga wall and an interview with Fitness Director Nadine Moody (page 6).
Click here to view article.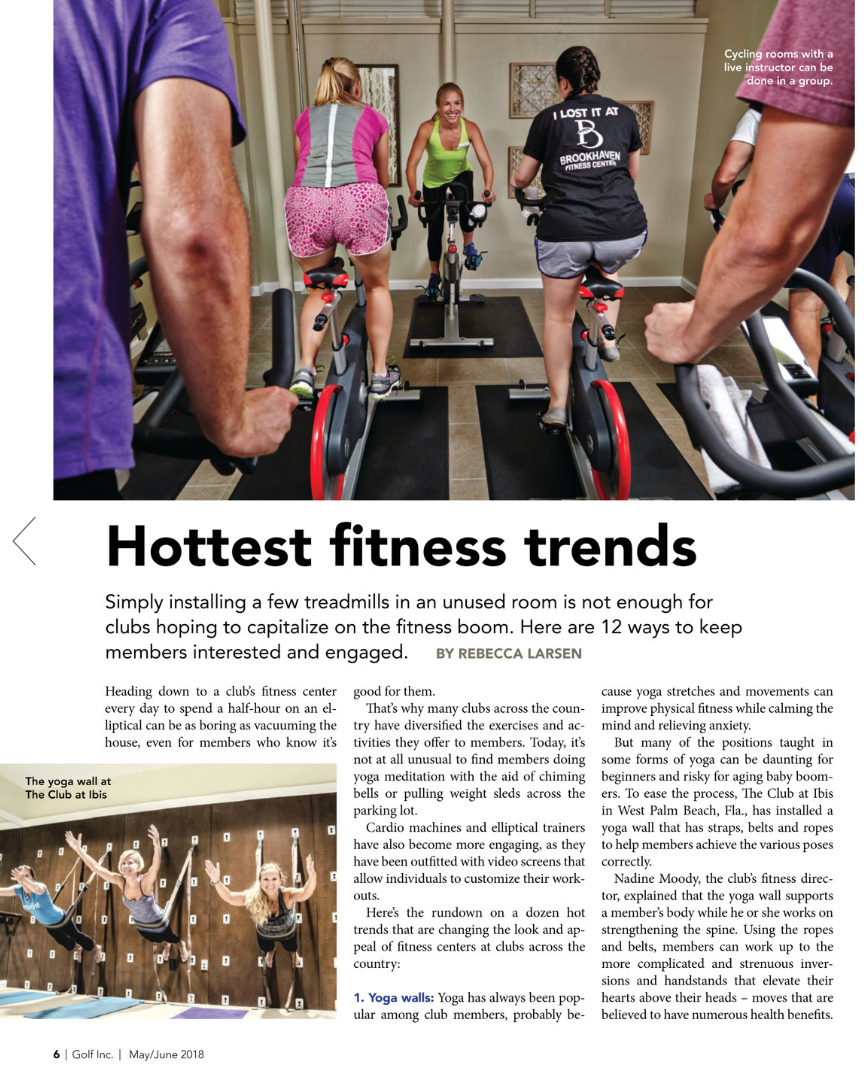 ---

May 2018
The Club at Ibis was recognized in this month's Seabreeze Publications. Seabreeze publishes several area papers which includes Southern Exposure, PGA National News, Lifestyles in Palm Beach Gardens, and The Jewish Voice. These papers are delivered to thousands homes and communities within our area.
Click here to view article.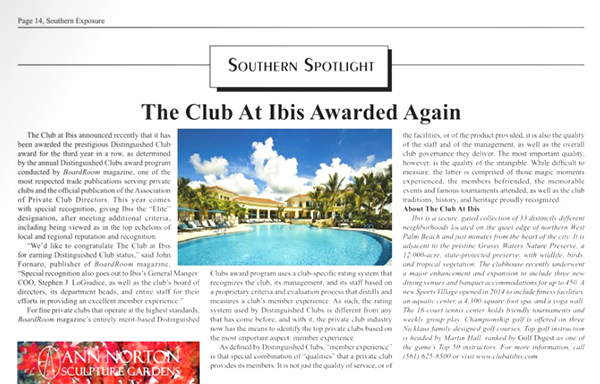 ---
April 2018
Fitness Director Nadine Moody was featured in the Club Management publication highlighting the Club's fitness facility and our range of exercise and wellness programs. Click here to read the article.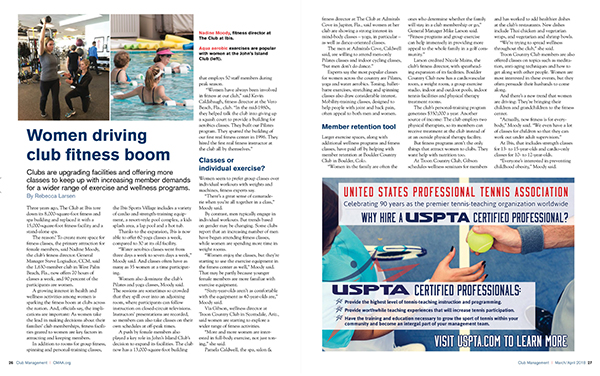 In the same Club Management publication, the Club's renovation was featured. Click here to read the article.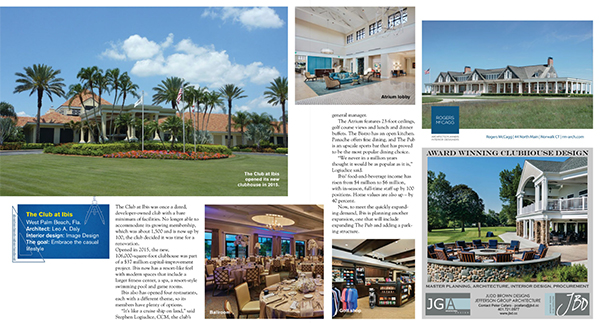 ---
April 2018
It was a morning of filming yesterday on Legend #17 for an upcoming episode of The Golf Channel's School of Golf with Ibis's Martin Hall and Blair O'Neal.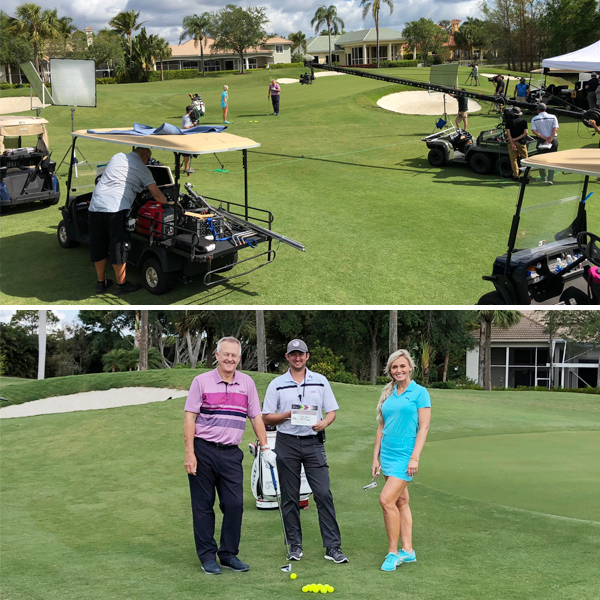 ---
April 2018
We are proud to announce that The Club at Ibis has been awarded the prestigious Distinguished Club award for the third year in a row, as determined by the annual Distinguished Clubs award program conducted by BoardRoom magazine, one of the most respected trade publications serving private clubs and the official publication of the Association of Private Club Directors. This year comes with special recognition, giving Ibis the "Elite" designation, after meeting additional criteria, including being viewed as in the top echelons of local and regional reputation and recognition, and having key members of the leadership team and staff who demonstrate superior training and experience.

---
March 2018
Ibis Food Drive A Big Success: Ibis Charities' Sixth Annual Food Drive Collects 22,000 Pounds of Food and $14,000 To Benefit Palm Beach County Food Bank. Click here to read article.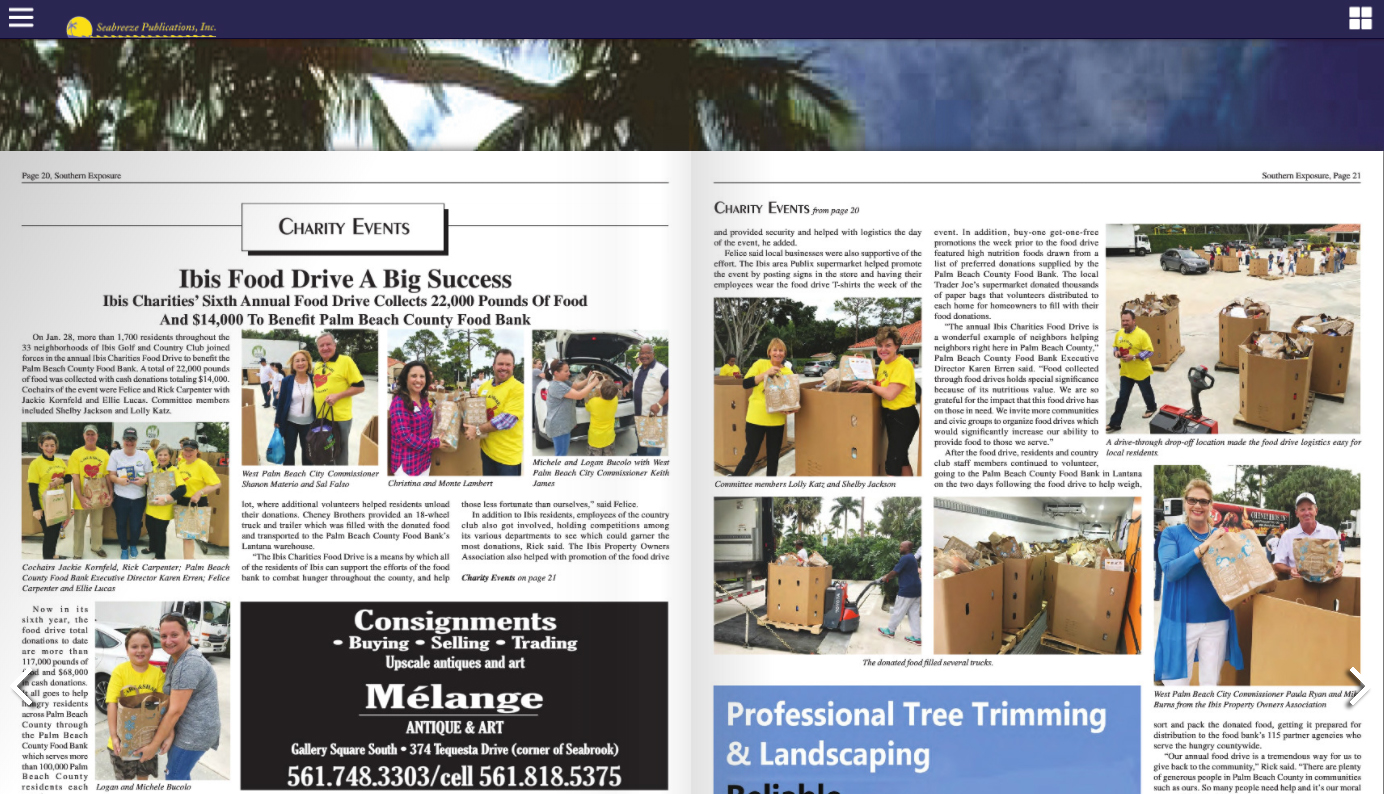 ---
March 2018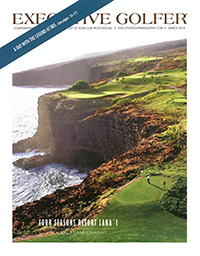 The March issue of Executive Golfer Magazine features a two page story (and a front cover banner) on the grand opening of The Legend Course. We invited the publisher of the magazine to the December ribbon cutting event and he interviewed Mr. Nicklaus over lunch.
Executive Golfer is distributed in 2,000 private golf clubs and all domestic American, Delta, United, and American Express Centurion lounges. Their digital edition is available on seatback screens of 545 mainline American Airlines aircraft. Their social media following exceeds 20,000 – with a mix including private club members, club champions, golf writers, Tour players, and industry influencers. They feature Ibis on their social media on a regular basis.
---
March 2018
The new March issue of In Jupiter magazine is out and features a story on Ibis's Director of Golf Instruction Martin Hall, and included him on the second cover!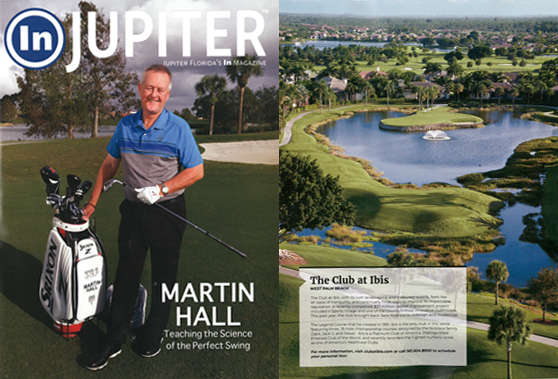 ---
March 2018
Check out the March issue of In Jupiter Magazine, with a featured story on Ibis's Director of Golf Instruction, Martin Hall. Click here to view the article.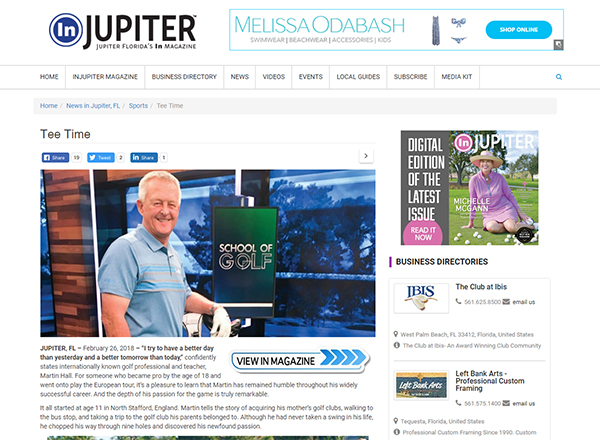 ---
February 2018
View a recent article from Executive Golfer about Martin Hall: A Day with the Legend at Ibis.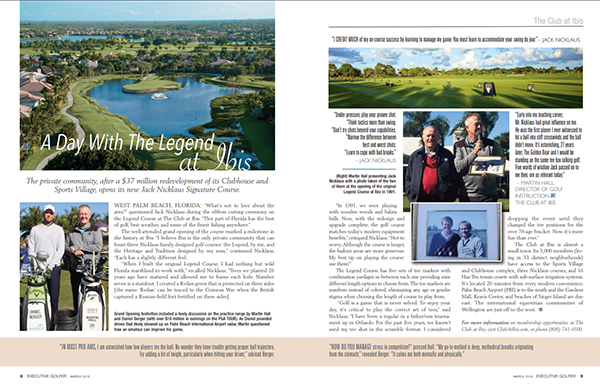 ---
February 2018
Check out the February Issue of Palm Beach Illustrated, their fashion issue. It showcases a photo shoot that was taken at Ibis in November. Click here to view the photos.