Social Activities
The Club at Ibis offers a calendar full of activities sure to suit you and any member of your family. We will keep you busy from morning to night if you let us. Besides all of the sporting options, we offer a wide variety of social and cultural opportunities. From learning new languages, playing in a band, creating all kinds of art, to learning cooking skills from expert chefs, and so much more. At Ibis, we embrace and support Member social groups of all kinds. There truly is something for everyone!
ICA: Ibis Clubs & Activities was created by Members, for Members. The ICA offers a range of exciting activities from books to films, singing to acting, cooking to language classes, and is also a great avenue in building Member relationships through various hobbies and interests. Through the many groups, Members are able to learn a new skill, engage in their hobbies, and grow the enriching lifestyle of the Club at Ibis membership. Planned group trips off-property as well as fun events held at the Club are just a few ways the ICA brings Members together.
See a full list of Member activities, clubs and groups below.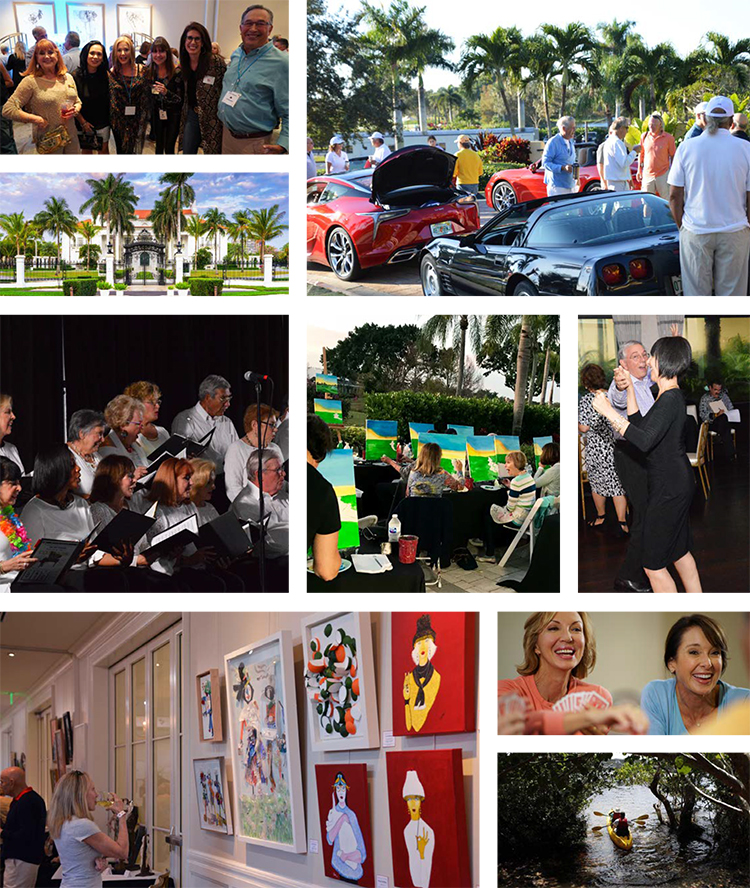 Social Events
Duplicate Bridge
Cheers
Trivia
Name that Tune
Monthly Shabbat Dinner
Sip and Paint
Bingo
Nerd Alert
Seafood Feast
Poolside BBQ and Entertainment
Gourmet Wine Dinners
Pub Entertainment and BBQ
Cooking Demos
How to Sell on E-Bay
Card Meet and Greet
Entertainment Series
Blood Drive
Fall Fest
Bridge Classes
Mah Jongg Classes
Off Property Events
Art Lecture
Interclub Bridge
Family & Children Activities
Easter Egg Hunt
Screen on the Green
S'mores
Kids Bingo
Gingerbread House
Family Fun Nights (or Carnival)
Noon Years Eve Celebration
Ornament Decorating
Santa and Danny Dreidel Visit
Game Room & Arcade Room
Bounce Houses
Kids Mani and Pedi
Kids Putt Putt
Groups & Clubs
A Knotty Habit
Chess Club
Fishing Club
Garden Club
Hebrew Classes
Ibis Lawyers
Memoirs: Bits & Pieces of Your Life
Photography Club
Ibis Physicians
Spanish Meet Up
Rediscovering Yiddish
Visual Arts & Exhibitions
Arts Ibis—Show & Exhibitions
Art, Lunch, & Learn
Collage Class
Holiday Arts & Crafts Fair
Painting Classes
Photography Show & Exhibitions


Program Series
Book Buzz—Guest Speakers & Book Discussions
Canasta Lessons & Strategy
Film Series with Commentary
Foodie Film & Luncheon
Great Discussions Series
ICA Speakers featuring Prominent Topics of the Day


Performing Arts
Actors Comedy Ensemble Performance
Ibis Rocks Band/Ibis Singers Dances & Concerts
Panache Night Club Events
Summer Sizzle Jam
The Cabaret Collective
DJ-Karaoke Holiday Party
Piano History Concert
Playwright Readings


Off Campus Events
Deluxe Brightline Train
Flagler Museum & Breakers Tour
Historic West Palm Beach Food Tour
Navy Seal Museum
Norton Museum & Teahouse Tour
Norton Museum Dinner
Raisin' Cane Bus Tour
Society of Four Arts
Vero Art Museum
Weiner Museum
Volunteer Programs
Ibis Charities Foundation
Ibis Food Drive
Knitting for Charity